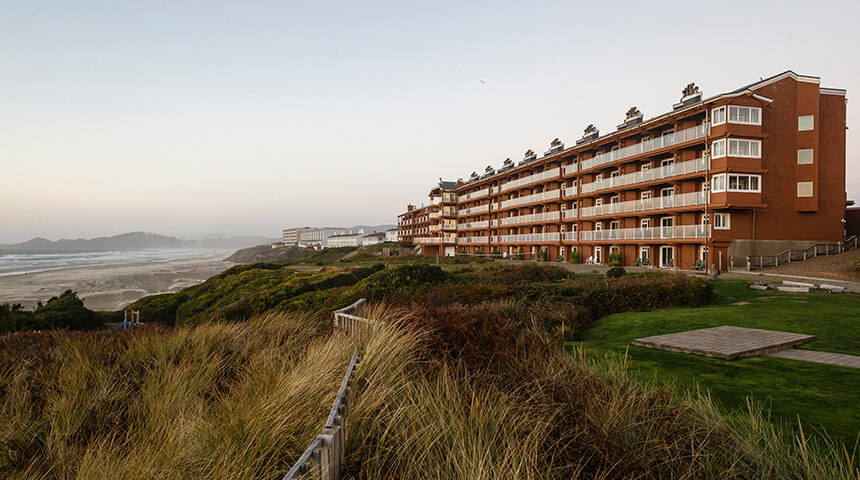 Winters on the Oregon coast are different than your typical beach vacation. Unless you are extremely brave (with a full-body winter wetsuit!), you probably won't end up swimming in the ocean. People don't go to the Oregon coast during the winter months to get a tan. They go for whale watching, clamming, wild scenery, and windswept dunes.
The Oregon coast during the winter months is a special place. The crowds who visit during the warmer months have returned to their day jobs in the nearby cities and you may find a section of the beach to yourself on a randomly clear and sunny day.
There are a few things you should remember to pack with you on your winter vacation to the coast:
Layers
This one is pretty obvious. Bring layers! This may mean thermal underwear if you decide to go on a hike on one of the many beautiful hiking trails bordering the coastline. Because the coast is often wet and misty, be sure to wear waterproof or moisture-wicking clothes. In other words, leave your jeans in the hotel room, because once those get wet there's no going back. Bring a down jacket in case the temperatures drop, as well as a hat and gloves to keep your body from losing heat. And of course, pack a rain jacket.
Good Shoes
Not having adequate shoes can ruin any vacation! The Oregon coast is an amazing place to explore tide pools, so bring your rubber boots. If you don't have rubber boots, bring hiking shoes with good tread for slippery surfaces. If you are planning on sticking to the sandy beach bring shoes that'll dry quickly overnight, in case a wave sneaks up on you. We also recommend bringing a comfortable (but practical) pair of shoes for exploring the town and lounging at the resort. These will be especially nice if you happen to get your other shoes wet.
Swimsuit
We do not recommend swimming in the ocean for the faint of heart. But we do suggest you bring a swimsuit to warm up and relax in our heated saltwater pool and spa.
Binoculars
Grey whales start arriving in Oregon around late December and the migration lasts for about a week, with around 30 whales migrating past the coast each day. This is an awesome opportunity to see it up close, with the help of some binoculars. One of the best whale-watching spots is Depoe Bay, which is about a 20-minute drive north of Hallmark Resort Newport.
Your dog
What's better than bringing your furry friend on vacation? Dogs love the Oregon coast because of the chance to dig in the sand and the opportunity to explore the boundless coastline. Hallmark is more than just a pet-friendly resort, we make sure you and your dog have the best experience… starting with receiving a "dog welcome bag" when you check-in. Bringing your dog along for the adventure has never been easier!
There you have it. Don't forget to bring these five essentials on your winter vacation to the beautiful Oregon coast. Happy February and happy whale watching!