History of Hallmark Inns & Resorts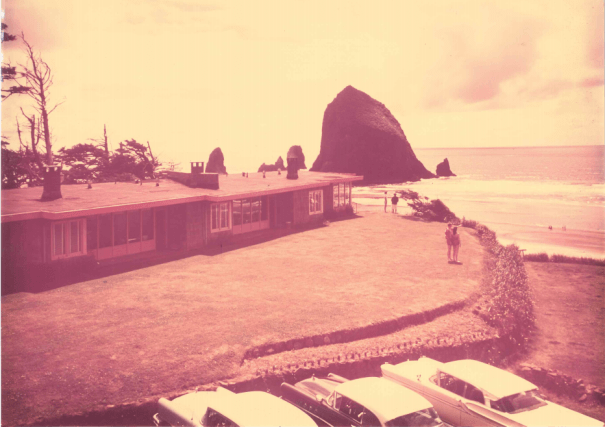 A Family Story
The history of Hallmark Resorts, Inc. can be traced back to a cocker spaniel named Sissy. In 1948, Bill and Georgie Hay's dog (Sissy) sniffed out a For Sale sign sitting high on a bluff overlooking Haystack Rock in Cannon Beach. The couple soon turned this special site into the Hallmark Resort & Spa in Cannon Beach and in 1976 added the Hallmark Resort in Newport.
A familial sense remains at the heart of the operations. With warm service making you feel like part of the family, the majority of the guests are frequent visitors.
"Our customers are our family. Year after year, the same families returned, which meant our children grew up together," Georgie reminisces. "Now our friends are not only bringing their children, but their children's children are visiting us."
Employee Owned Since 2016
In 2016, Hallmark President and CEO William Allred noted that the company has been family owned for close to 70 years, and that they saw starting an ESOP (Employee Stock Ownership Plan) as the next logical step. They started the program in March of that year, with all full-time employees eligible for benefits.
Allred noted, "It has been Hallmark's philosophy from the start that if we treat our employees like family, they'll extend that treatment to our customers."
First Pet-Friendly Hotel
Living at the hotel with Sissy during the early years, the couple felt their guests should be able to bring their pets too. These sentiments created what was quite possibly the area's first pet-friendly hotel.
Community Connection
Hallmark Resorts holds a deep affinity for the coastal communities where our employees live and work.
Here's a snapshot of our involvement in Cannon Beach:
Here's a snapshot of our involvement in Newport:
Constructing and donating the public stairs and public access pathway to the beach.
Providing volunteer hours, food, gift certificates, meeting space and/or funding to an exhaustive list of nonprofit organizations  — such as Newport High School, Pacific Community Hospital, Friends of Yaquina Head Lighthouse and more.
Currently donating a portion of pet stay fees to the Lincoln County Animal Shelter.